Nick Kallos and Casino Gaming School are frequently mentioned in articles related to casinos, gaming and dealing. A few examples are show below.
Also, be sure to check our Nick on TV page to see the TV shows that have featured our school.
Sights: The Inflight Magazine of ATA Airlines
PLACE YOUR BETS ON A WHIRLWIND WEEKEND IN LAS VEGAS, YOU'D
BETTER SAVE SLEEP FOR THE PLANE. BY LESLEY BALLA

THERE'S NO DENYING IT:

Las Vegas is a dream world where you lose your inhibitions, trim waistline and, yes, probably money—but that's the beauty. Resorts are mazes of restaurants and nightclubs where each turn leads to slot machines and craps tables. And the attractions change fast, because in Vegas, it's all about the next big thing.

You can be in ancient Egypt one minute, a posh nightclub later and New York by morning. Blink, and it's a new world. The result: There's something for everyone. Whether you're looking for a spa, gaming action, a splashy nightclub or the most decadent meal, here's everything you need to know—at least this time around.

ANTE UP

DON'T BE FOOLED. All the bells and whistles—fancy restaurants, shopping, luxurious spas, flashy nightclubs—are there to lure you into the casinos so you will spend money. Slots clubs reward players with free rooms, meals and other comps. Keep in mind that the games are just another form of entertainment—not a magical fix to all your money woes—and they really can be fun. Just look at those guys high-fiving at the craps table, drinking scotch, smoking cigars and rolling the dice. When everyone's winning, the energy is infectious. But knowing your limit is key.

Poker rooms and sports books are bigger and more comfortable than ever. MGM Grand's (www.mgmgrand. com) sports book has 44 big-screen plasma TVs, seats with individual color TVs and second-level skyboxes for up to 10 people. Gaming instructor Nick Kallos likes Flamingo's (www.harrahs.com) poker room for its privacy and friendly dealers. For something a little racier, Caesars Palace (www.harrahs.com) and Planet Hollywood (www.planethollywood. com) have lingerie-clad dealers and go-go dancers in their gambling pits, while the Playboy Club at The Palms (www.palms.com) is designed to look like Hugh Hefner's Beverly Hills mansion, complete with Bunnies dealing high-stakes hands. But, "there's nothing like playing at the Bellagio (www.bellagio.com) or the Wynn (www.wynnlasvegas.com)," Kallos says. Some casinos even have nonsmoking sections now, and lest you forget, if you gamble in the casino, you get free cocktails. Just don't forget to tip the servers—generously if you're winning.

GAMBLING TIPS FROM A PRO

Never play games you don't fully understand, because you'll embarrass yourself," says Nick Kallos, founder of the Casino Gaming School in Vegas. He should know. After 35 years in the gaming industry, Kallos teaches the art of dealing blackjack, craps, roulette and poker to more than 600 students a year. To learn, Kallos suggests checking out the free gaming classes at the resorts—most offer instruction on table games.

CRAPS

The craps table is always electric. To a novice, all the colors, boxes and numbers can be intimidating. Just slip into an empty spot, put your money on the table for the dealer to cash in for chips, place a bet on the pass line, and you're good to go. Here are the basics: Players take turn rolling the dice. If a seven or 11 come out on the first roll, the pass line wins. Two, three or 12 on the first roll, everyone loses, or "craps out." Any other number sets the point. Once a point is established, you can't pick up your bet; players win when that point is rolled again. If a seven is rolled before the point, everyone loses. "Don't jump in until you understand the game,"

Kallos says. "Take the classes or go to a table early or late at night, and the dealers will help you.

Put a minimum bet on the pass or don't pass line, and you can sit there and play the whole night. And never put your hands on the table when someone is about to throw the dice. You'll make a lot of enemies fast." And please, no blowing on the dice. It's bad form.

BLACK JACK

The goal is to get closest to 21, and play is only against the dealer. Cards two through 10 are worth face value, and face cards are worth 10. An ace is worth 11 unless it causes the player to bust (over 21), and then it's worth one. Getting a blackjack (an ace and a card worth 10 as your opening two cards) is an instant win. When the dealer gets 21, everyone at the table loses. If the dealer and players get blackjack, it's a push (tie). Basic strategy: Below 17, hit; 17 or higher, stand.

"Get in a casino that you feel good about, nice surroundings, good dealers," Kallos recommends. "Find a table that you're financially comfortable with. Watch the table, see what people are playing. But don't get too close, and never ask another customer for help."

KENO

Keno is a fairly relaxing game because there's really nothing to it but picking numbers, placing bets and drinking free cocktails in the keno lounge. The chances you'll actually win money are slim. A player marks up to 20 numbers on a card that has 80 numbers. You bet that your numbers will be among the 20 drawn. After the numbers are drawn, winning tickets are paid according to a table that varies from house to house. There is no strategy—any number is as likely to come up as any of the others.

Tips from Kallos: "You have to be really, really mad at your money to play keno, because you'll be throwing it away. The odds are ridiculous. If you're going to play, play at the buffet during breakfast, and play the least amount of numbers. If you're playing an eight- or 10-spot, just mail your money to me."

ROULETTE

 The American wheel has 36 numbers plus zero and double-zero; those zeros give the house the edge. Roulette chips generally can't be used anywhere else in the casino. After the initial bets are placed, the dealer spins the wheel. You can bet while the wheel is in motion, until the dealer says, "no more bets." The ball either hits your number or it doesn't. It has a slow pace and is a game of chance, but knowing which type of bet to place comes in handy. Inside bets are on individual numbers, while outside bets are on groups of numbers (red or black, odd or even, etc.)

Tips from Kallos: "There are many ways to bet, many outcomes. You're better off with lower limits in roulette. It's a tough game to beat, but people [play] because they know if they hit the number, they can make a lot of money. Also like craps, don't try to touch the wheel, and if you want to watch, do so at a good distance. Nonplayers aren't allowed at the table."

SLOTS

Bright flashing lights, winning shrieks from within the casino, and those signs showing big jackpot winners are seductive. Almost every casino has moved away from coin slots: That clang-clang of coins dropping is digital. Machines only take paper money or tickets and give tickets as winnings, which you have to change at a machine or with the cashier. Machines don't become "due," so don't bother waiting around for one to hit. Those with lower jackpots tend to pay more frequently. The big jackpot machines, not surprisingly, are tough to hit.

There's no magic to them, you just have to be lucky," Kallos says. "Always play the maximum bet, because that's what pays out if you hit the jackpot.

If you're not winning should you stay there? No. Get up and walk to another machine or another table. Doing something is better than doing nothing."

For more information about ATA Airlines, visit http://www.atasights.com
————
Casino Player Magazine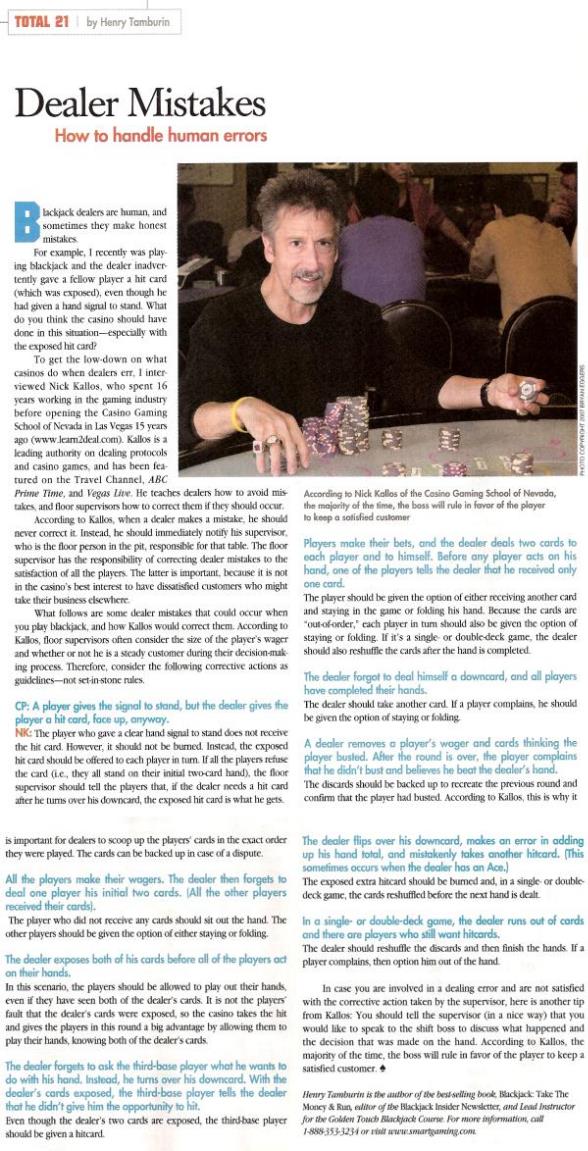 ————-
Frommer's Travel Guide
Get an Education in … Las Vegas?
By Pauline Frommer
Frommer's Travel Guides, May 8, 2007

Care to know how the residents of Las Vegas live? How they learn their trades, hone their skills, pursue their ambitions, and kick back? In a city as weird as this one, those subjects can be more interesting than you'd think.

In Vegas, the American Dream is built on tips — gratuities. Thousands come here every month because they know that the lack of a college degree won't hold them back as it will in other parts of the United States; that a high school graduate, or someone who never even made it that far, can earn between $45,000 and $70,000 a year just parking cars. Skilled jobs offer potentially bigger rewards. To help newcomers acquire those skills a number of schools and classes have sprung up around town.

Dealer Schools

Most common are the "dealer schools," where anybody who's reasonably math-savvy and coordinated can learn how to rook all of us vacationers . . . er, I mean deal cards. Some are fly-by-night operations, to be sure, but there's one with such an impeccable reputation and track record that it's considered the Harvard of gaming schools.

That standout, the Casino Gaming School (900 E. Karen Ave., Suites 216, 218, 220; tel. 702/893-1788; www.learntodeal.com), is run from a large second-floor suite at the back of the Commercial Center strip mall. Admittedly, it has no ivied walls or campus. But despite its faceless, somewhat grubby appearance, this is a dedicated center of learning, as intense in its own way as an Ivy League university. And that's largely due to the efforts of owner Nick Kallos, a slight fellow with bristly salt-and-pepper hair and a goatee, who has the looks and manner of a more-groomed Ratso Rizzo, but the enthusiasm, energy, and love of teaching of a Mr. Chips. Nick and his staff of veteran dealers (every teacher here has at least 5 years' experience working in a major casino) patiently teach novices the rules and rituals of each game.

Because the school is always looking for new students, they allow outsiders to come in and audit classes for free. You can stay for an entire morning or afternoon session, or come and go as you please. You don't even have to pretend to reside in the city. The no-nonsense but ultimately friendly Kallos, whose school has appeared in numerous Travel Channel specials, is rightly proud of his operation and welcoming of visitors.

Watching a session has varied pleasures. You'll definitely come away with some strategies for your own gambling. If you're like me you'll also leave with an appreciation for the complexity of the dealer's work. I spent about 10 minutes on my last visit just watching students practicing the mechanics of the job: One fellow pitched cards endlessly on a blackjack table ("You want Ray Charles to be able to read that from across the room," the teacher next to him exhorted) as another worked on picking up the chips without spraying them all over the table (harder than it looks; it's all in the pinkie), while still a third would-be craps "stickman" arched his stick in the air over and over, working to cleanly pull the die aside in a movement that seemed to have as much to do with fencing as gambling. "It's not brain surgery," says Kallos, "but it does take time and practice." Just as intriguing to peek in on are the sessions discussing various strategies for blackjack, poker, and the like. Anyone who enjoys gambling will get a kick out of hearing an insider's point of view on these topics. 
——-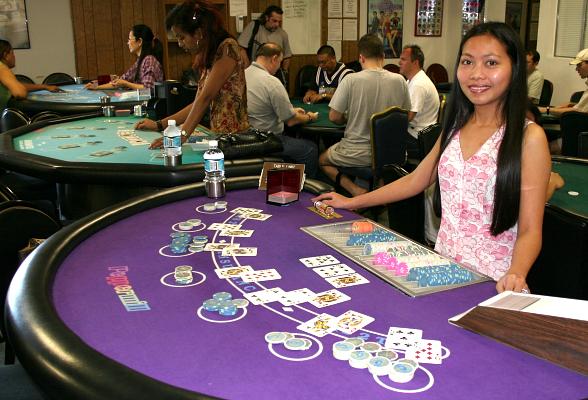 Blackjack is the most popular table game in Las Vegas and the easiest to learn. 
Read more
Nick Kallos has appeared as a dealing and gaming expert on several gambling specials aired by The Travel Channel and other networks including:
Vegas Dealers 1
Vegas Dealers 3
Vegas Challenge
Vegas Live with Sheena Easton
Sunrise Does Vegas
Cheats and Scams 2
VH1 Showgirls
Las Vegas FAQ
Cheaters Beware
Vegas Challenge: The Tournament
ABC PrimeTime
The sections below include photos and additional information about these television shows.
Vegas Challenge: The Finals, Season III
Anthony Curtis and Nick Kallos host the third season of Vegas Challenge. In this episode the finalists compete in four games: Craps, Roulette, Blackjack and Three Card Poker. This challenge was taped at the Sahara Casino in Las Vegas and aired on The Travel Channel.
Vegas Challenge: Season III, Game 1
This challenge featured competition in four games: Blackjack, Craps, Roulette and 3-Card Poker. The tournament was taped at the Sahara Hotel/Casino and aired on The Travel Channel.
Vegas Challenge: Season III, Game 2
The Season III competition continues with Blackjack, Craps, Roulette and 3-Card Poker. The tournament was taped at the Sahara Hotel/Casino and aired on The Travel Channel.
Vegas Challenge: Season III, Game 3
The Season III competition continues with Blackjack, Craps, Roulette and 3-Card Poker. The tournament was taped at the Sahara Hotel/Casino and aired on The Travel Channel.
Vegas Challenge: Season III, Game 4
Game 4 of Season III continues as players for a spot in the Finals. The competition, which included Blackjack, Craps, Roulette and 3-Card Poker, was taped at the Sahara Hotel/Casino and aired on The Travel Channel.
Vegas Challenge: The Tournament
Nick Kallos and Anthony Curtis recently co-hosted Vegas Challenge: The Tournament. In this event, contestants competed in four games: Blackjack, Craps, Roulette and 3-Card Poker. The tournament, which was taped at the Sahara Hotel/Casino, was televised by The Travel Channel in June, 2004, as the lead-in show for the World Poker Tour.
Vegas Surveillance: Cheats & Scams 2
Players often try to cheat the casinos but one of the best defenses is a dealer who is trained to follow procedures that can prevent or detect cheating by players. The Travel Channel visits Casino Gaming School in Las Vegas to find out how owner Nick Kallos trains potential new dealers.
Vegas Live with Sheena Easton
Nick Kallos teaches Sheena Easton how to deal Craps and Blackjack for her TV special Vegas Live with Sheena Easton. This segment was taped at Casino Gaming School.
Australian TV Show Sunrise Visits Casino Gaming School
Monique Wright from the Australian show Sunrise Does Vegas visits Las Vegas and learns to deal blackjack from Nick Kallos.
Vegas Dealers 1
The Travel Channel follows the action as Casino Gaming School owner and gaming expert Nick Kallos hosts a competition between his three top dealing students. The winning student, Daniel, auditions as a blackjack dealer at the Sunset Station Casino in Las Vegas.
Las Vegas FAQ
One of the most frequently asked questions is "How can I become a dealer in Las Vegas"? The Travel Channel interviewed Nick Kallos of Casino Gaming School to find out the answer.
Vegas Challenge
Nick Kallos provides expert commentary in Vegas Challenge, a Travel Channel special that featured four expert players, each competing in their favorite game: Baccarat, Craps, Roulette or Blackjack.
Million Dollar Blackjack Tournament
Blackjack players compete for one million dollars in the Hilton's first Million Dollar Blackjack Tournament. Nick Kallos (the owner of Casino Gaming School) provides commentary on the event.
ABC PrimeTime
TV networks and news organizations frequently interview Nick Kallos for gaming-related stories, and often ask to film in the Casino Gaming School classroom.
ABC News recently visited Casino Gaming School, and after interviewing Nick they asked him to perform some spectacular flourishes with cheques (poker chips) including shuffling chips in one hand:
Casino Gaming School Photos 
Here are some photos taken inside Casino Gaming School one morning before the school opened.
And here's what our school looks like when it's open!
Why is our school so busy? It's because Casino Gaming School is a good place to learn to become a casino dealer. We can teach you how to deal Blackjack, Poker, Craps, Roulette, Pai Gow Poker and Baccarat.
If you're thinking about becoming a casino dealer, please visit our school, meet our instructors, sit in on our classes and check out our casino-quality equipment. We know you'll like what you see!
For courses and pricing, click here.
Educational Philosophy
We are dedicated to providing every student the finest in classroom and personal training, to ensure that every graduate possesses the knowledge and skills necessary to become a qualified casino dealer.
School Facilities And Equipment
The school has an administrative office and a casino-style classroom with the following equipment:
4 Poker tables
8 Blackjack tables (including Royal Match table and ShuffleMaster dealing machines)
One Craps table
2 Roulette tables
One Mini Baccarat table
One Pai Gow Poker table
License
Casino Gaming School is licensed by the Commission on Post Secondary Education in the State of Nevada.
Graduation Certificate
Students who successfully complete a dealing course at Casino Gaming School will receive a Certificate of Graduation:
Admission Procedures
Each student is personally interviewed by the Admissions Representative who explains the School's philosophy, discusses the opportunities in the Gaming Industry and explains the course contents.
Admission Requirements
Casino Gaming School accepts as students those individuals who have graduated from high school; have passed the General Education Development test (GED); or are above the compulsory age of school attendance and have the ability to benefit from the training Casino Gaming School offers.
The prospective student should also be in good health, have no major physical handicaps that would hinder his/her ability to deal, and display sufficient manual dexterity to become an employable graduate.
Courses and Pricing
For courses and pricing, click here
Location
Casino Gaming School is located at:
900 E. Karen, Suites 216, 218, 220
Las Vegas, NV 89109
We are in the southwest corner of Commercial Center, Bldg H. The nearest major intersection is Sahara and Paradise.
Hours of Operation
The school is open Monday through Friday. The office opens at 9am with classes from 9am to 7pm except for Poker which is taught Monday through Thursday from 10am to 4pm. Friday hours are 9am to 3pm. Craps is taught from 11am to 7pm.
Phone
(702) 893-1788
Website
Email
Send us an Email using our easy contact form.
Blackjack
Blackjack is a 80 hour course. Classes are normally 5 hour sessions, allowing you to attend morning, afternoon or evening. You can complete the course in as little as 10 days. The total cost is $299.00
Craps
Craps is a 80 hour course. The total cost is $349.00
Roulette
Roulette is a 80 hour course. The total cost is $349.00
Poker
Poker is a 80 hour course. The total cost is $799.00
Pai Gow Poker
Pai Gow Poker is a 80 hour course. The total cost is $299.00
Mini Baccarat
Mini Baccarat is a 80 hour course. The total cost is $299.00
Additional Information
Any two games (excluding poker) are $500 when purchased together.
The price of each course includes required books, registration fee and job assistance with no hidden costs.
We accept cash, check, Visa, MasterCard or Discover.
Courses and pricing are subject to change. Contact us for the latest information.
To enroll now, call (702) 893-1788 or visit us at:
Casino Gaming School
900 E. Karen, Suites 216, 218, 220
Las Vegas, NV 89109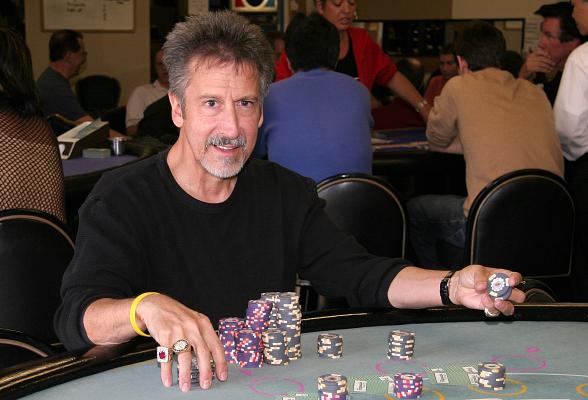 Nick Kallos, the owner of Casino Gaming School, is the leading authority in casino dealing.
Nick Kallos: My Career In Gaming and
How I Started Casino Gaming School

I've been in the gaming business over thirty-five years. I was a GM for fourteen years running casinos. I started like everybody else - at the bottom. I was a porter at Caesar's, and worked my way up through hard count, side count, the cage and cage supervisor.

When I left there I began dealing Big Six Wheel of Fortune. I broke in at Union Plaza as I learned my craft of being a dealer. I was very fortunate and got to run three small casinos including the Paddlewheel and the Las Vegas Inn. This experience taught me a lot but while running these joints I began to have less interest in management. I realized I should have stuck with dealing. I decided to start my own school. That's how much I love dealing.

I deal all the games and I deal them well. The only exception is Poker, and that's why I have two of the best dealers in town teaching our students how to deal the game.

I've been running Casino Gaming School for seventeen years. We've been at the same location that long. At one time I had three schools including one in Henderson. My original school was downtown but I got 'eminent domained' with the Dome.

Instead of continuing the Henderson school I knocked the walls out here and enlarged this classroom. I'm glad I did because now I have all the students here and I can make sure they get quality attention.

- Nick Kallos
Nick's Hobby