Blackjack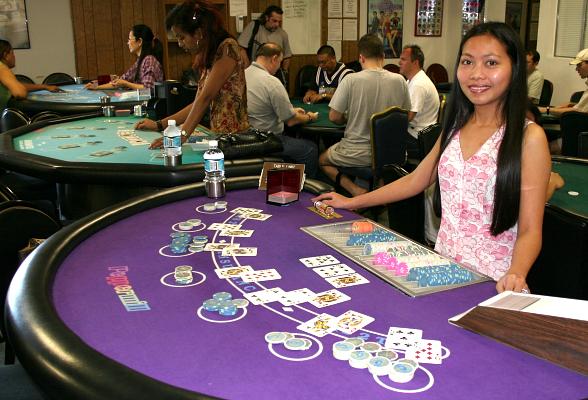 Blackjack is the most popular table game in Las Vegas and the easiest to learn. 
BLACKJACK: 4 weeks - 80 Hours
The school's objective in this program is to produce a confident, employable dealer, proficient in all procedures of Blackjack in an entry level position.
The course of Blackjack begins with the rules and object of the game. Next, handling of checks, delivery of cards, and position of the dealer's body are taught. Through hands-on training the student learns to deal Blackjack with a single deck, a double deck, and a shoe (a device used to hold multiple decks).
Finally, multi-hand procedures, splitting pairs, peek and no-peek procedures, doubling down, Blackjack payoffs and insurance are covered. The student is also instructed on protection of the game, dealer relief and job interview/audition procedures.
Topics Covered:
Orientation
Shuffle
Strip
Pitching
Hole Card
Cheque Cutting
Shoe
Insurance
Markers
Blackjack Payoffs
The total cost of the course is $299.00
Nick's Notes on Blackjack

In terms of games, Blackjack is the standard in Las Vegas. Blackjack and Craps have always been popular but Blackjack is the strongest. When people come to town, they've heard about it, read about it and played it at home. They understand the game and know some of the ins and outs.

Most of the people who go to Las Vegas play Blackjack.  They read books about playing strategy and watch movies like 21 mention card counters who beat the casinos for millions. Everyone thinks that somehow, some way they can beat the game of Blackjack, and that's what keeps this game hot.

Money is a factor, too. There are still places in town where you can sit and play Blackjack all day for a couple of dollars a hand. You have some laughs and get some free drinks, and with a little luck you can make your bankroll last a long time. Blackjack is a fun game to play, especially with your friends.

Blackjack has always been popular in Las Vegas and always will be. That's why Blackjack dealers are such a huge commodity in Las Vegas. Most casinos never close so they need enough dealers to cover three shifts over a 24-hour period. That's a very large workforce of Blackjack dealers.

Many new students take our Blackjack class because it's a simple and inexpensive game to learn, and one of the fastest ways of getting a dealing job. You attend a school like ours, learn to deal Blackjack in a couple of weeks and immediately start auditioning for dealing jobs. Of course, your ability to get a job also depends on your personality and your willingness to start in a small break-in casino.

Once you've landed your first casino job you can come back to the school and learn to deal more games. Most people learn Craps or Roulette as their second game, while others who already know those games take classes in Mini-Baccarat or Pai Gow. Learning additional games will allow you to move up in your casino. There's no magic to it. You work hard, put in your time and effort, move up to a better casino, and eventually to dealing job in a strip hotel.